Florida Hurricane/Tornado Seasons
By James | Last updated August 23, 2023
This page may contain compensated affiliate links. Please read the Disclaimer for more information
As well as being known as the Sunshine State, Florida is also renowned for its hurricanes and to a lesser extent, tornadoes.
No matter where you stay in Florida, whether you are up in the north, in the central Orlando area, on either the western Gulf Coast or the eastern Atlantic coast or down in the Florida Keys, you could be caught by a hurricane or a tornado. Do not be complacent; one year when we were at Walt Disney World a mini-tornado struck nearby Kissimmee.
If you are on vacation during the Florida hurricane or tornado season then do check with your hotel, motel or villa owner for any specific information regarding any precautions you should take.
Florida Hurricane Season
The official hurricane season in Florida (see image) runs from the beginning of June to the end of November with mid August to mid October being the height of the season
A hurricane is a tropical cyclone with an organised circulation (usually counter-clockwise); these tropical storms are classified under three headings depending primarily on wind speeds:
Tropical depression – clouds and thunderstorms with maximum sustained speed of 38 mph or less
Tropical storm – strong thunderstorms with a maximum sustained speed of between 39 and 73 mph
Hurricane – severe thunderstorms with a maximum sustained speed of 74 mph or higher
Hurricanes are classified with five categories using the Saffir-Simpson scale, where 1 is the weakest and 5 the strongest. Category 3 and above are regarded as major hurricanes.
| Category | Wind speed | Storm Surge | Damage | Flooding |
| --- | --- | --- | --- | --- |
| One | 74 to 95 mph | 4 to 5 feet | No real damage to structures. Some damage to unanchored mobile homes | Minor coastal flooding |
| Two | 96 to 110 mph | 6 to 8 feet | Some damage to roofing and windows. Trees blown down and damage to mobile homes | Flooding of low-lying escape routes |
| Three | 111 to 130 mph | 9 to 12 feet | Structural damage to residential properties and mobile homes. Up-rooted trees | Coastal flooding up 8 miles inland with some evacuation of coastal properties |
| Four | 131 to 155 mph | 13 to 18 feet | Extensive damage including roof structure failures. Extensive damage to windows and doors | Major flooding to shore properties. Mass evacuation of properties up to 6 miles inland |
| Five | Greater than 155 mph | Greater than 18 feet | Complete building failures, especially mobile homes | Major flooding to shore properties. Mass evacuation of properties up to 10 miles inland |
Hurricanes often cause a storm surge at sea which can raise the sea level by up to 15 feet, cause inland flooding accompanied by high winds and in some cases tornadoes.
Over half of those killed as a direct result of a hurricane are drowned with many others being hit by flying debris. As many people again usually die in the aftermath of the hurricane from heart attacks etc.
Florida Tornado Season
There are two seasons for tornadoes (see diagram), the main one being in the summer between June and September and a more deadly spring season between February and April, encouraged by the jet stream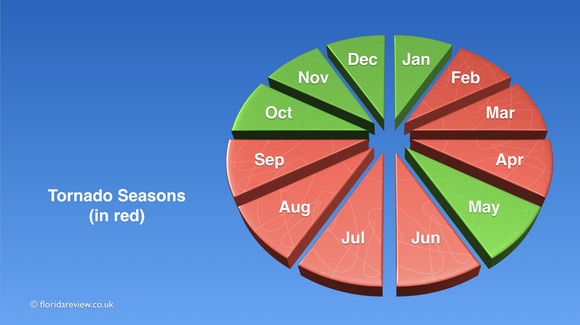 Recent Incidents in Florida
In February 1998 a tornado hit Kissimmee near Orlando killing 25 people, most of those killed lived in trailer homes, many of which were not built to withstand such high winds.
In 2004, four hurricanes (Charley, Frances, Ivan and Jeanne) hit the Florida coast, causing over 20 deaths and more than $40 billion in damage.
In 2007, severe thunderstorms, accompanied by three tornadoes swept across Central Florida north of Orlando leaving a trail of death and destruction. Lake, Sumter and Volusia Counties bore the brunt of the storms and 21 people died in the towns of Lade Lake and Paisley in Lake County.
2016 saw the category 5 Hurricane Matthew skirting along the length of the Atlantic east coast causing over 1 million homes to lose power. Around 12 people were killed in Florida but Haiti was worst hit with over 500 deaths officially attributed to the hurricane.
The following year, Hurricane Irma cut a swathe through the centre of Florida after making landfall in the Keys. The cost of the damage was estimated at over $53 billion. Over 70 people died in Florida in storm related incidents.
In 2018 Florida was hit again when Hurricane Michael came ashore on the Florida Panhandle coastline.
The chances of being hit by a hurricane or a tornado in Florida are pretty slim but it pays to be informed. It is important to keep up to date on weather conditions by listening to the radio or watching TV.
If you are staying in a region which is susceptible to hurricanes, it makes sense to buy a portable radio that picks up NOAA weather broadcasts
If you are staying near the coast then you should also pay particular attention to the sign-posted evacuation routes.
Remember the hurricane and tornado seasons effectively overlap and run from the beginning of February through to the end of November.
Useful sources: Florida Emergency Management Agency | National Hurricane Center