Orlando Weather, Temperature and Rainfall
By James | Last updated August 18, 2023
This page may contain compensated affiliate links. Please read the Disclaimer for more information
The weather in Orlando and Central Florida is great for the holiday maker with hot summers and mild winters.
It can get very hot and humid during the summer months between June and October with frequent (daily) thunderstorms though they are scattered and over very quickly. Somehow you cannot complain when the rain is warm!
Peak visitor time in the winter is between December and February when temperatures and humidity are more manageable and there is a lot less rainfall.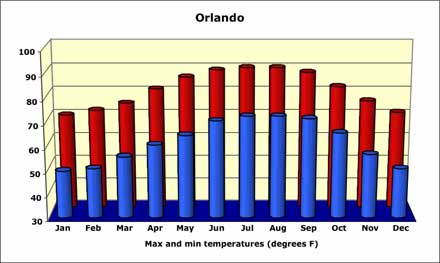 One of the best times to visit is in May when the temperatures are still high but the humidity and rainfall are lower. Alternatively try October though there is still a risk of hurricanes and thunderstorms.
There is a very definite rainy season between June and September, for the rest of the year rainfall is low. Orlando has had its fair share of hurricanes and tornadoes, 25 people were killed in Kissimmee in February 1998 and in 2004 Orlando was hit by three hurricanes, Charley, Francis and Jeanne.